Cycling up hills is almost an inevitability for every rider, and people living in particularly undulating areas can be put off by the prospect of hill climb after hill climb. However, the power boost provided by electric bikes can help you tackle tricky uphill trips and surpass previously insurmountable summits.
Choosing the best e-bike for hills will depend on multiple factors, such as your weight, the distance you need to travel, and the size and frequency of hills on your route. So before purchasing an e-bike, it's essential to consider a few factors that will influence which one you buy. For example, if you're looking for an e-bike to commute to work and only tackle smaller hills, a Class 1 or Class 2 e-bike should suffice. A Class 1 e-bike only provides power when you pedal, which is ideal for short trips that aren't too demanding on the motor.
However, if you want to take on more challenging terrains and steeper hills, you're better off prioritizing a Class 2 e-bike. Class 2 bikes offer a throttle that enables you to engage the motor even when you're not pedaling, which is ideal for tackling more challenging climbs. You should also look for an e-bike with high-quality hydraulic disc brakes, which gives you maximum control on the way down the big hill.
Best E-Bikes For Climbing Hills
You also have a wide range of choices over the type of e-bike you purchase, from mountain bikes to hybrid and racing bikes, depending on how you plan to use it. So with that in mind, here are a few recommended e-bikes for climbing hills: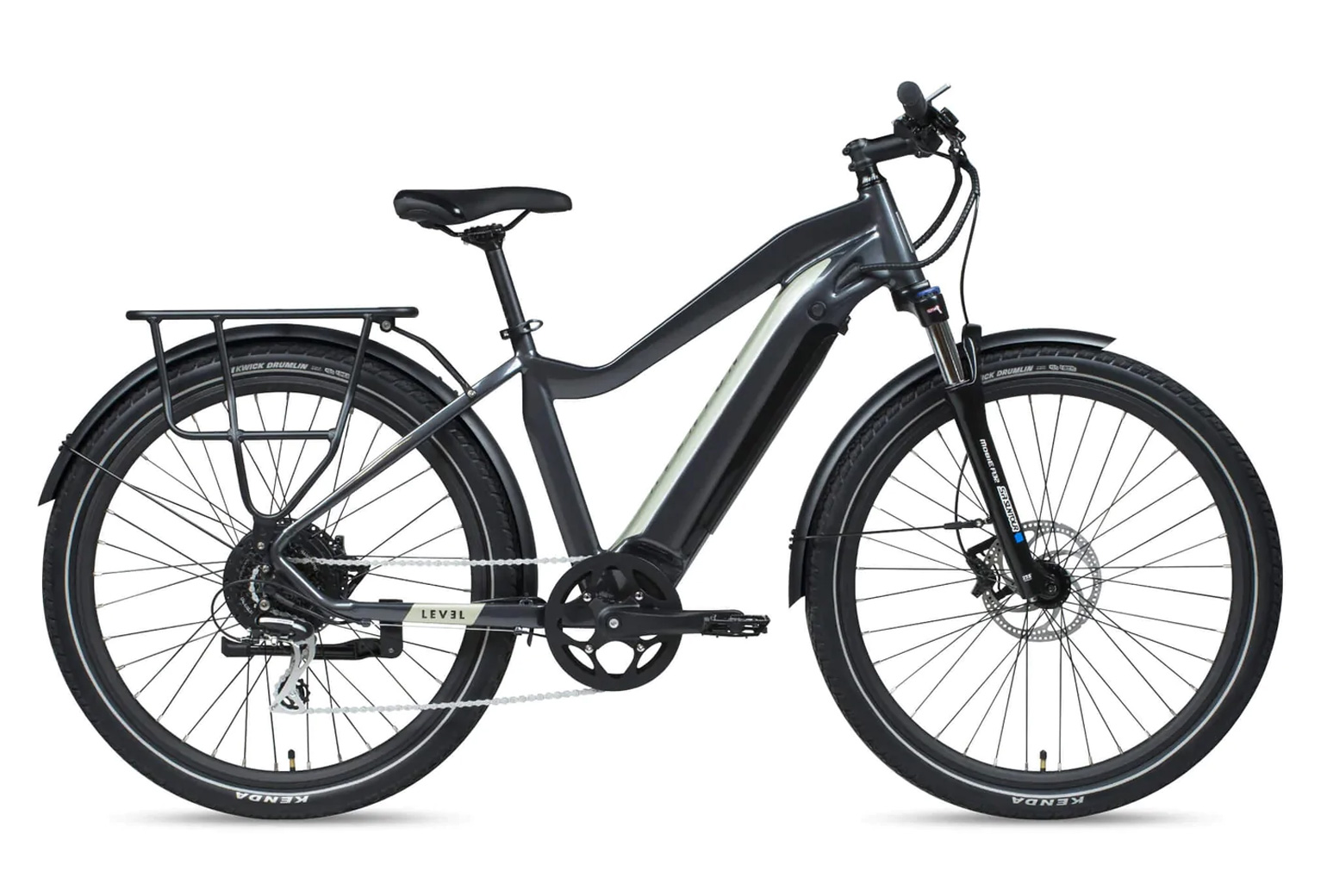 • Running errands or visiting friends
• Mid-distance rides in the countryside
• Use as a runabout when using your RV
The Aventon Level.2 Commuter is ideal for climbing hills thanks to its torque sensors, which detect how hard you ride to add a sophisticated pedal assist. It also has a thumb throttle that offers a top speed of 20mph, but the bike's accompanying smartphone app allows you to increase the pedal assist to 28mph, giving you even more power for those toughest climbs.
The Level.2 is powered by a 500-watt rear-hub motor that peaks at 750 watts, five levels of pedal assist, and a 672-watt-hour lithium-ion battery. This offers a range of 42 miles with the maximum pedal assist engaged.
Furthermore, our hill climb assessment found that the Level.2 completed a 0.2-mile route with 108 feet of elevation gain in one minute and three seconds with an average speed of 12 mph on throttle only and in just 40 seconds at an average speed of 18.8mph on the maximum pedal assist.
• Getting to your meetings on time
• Exploring your town or city
Rad Power's RadCity 5 Plus is ideal for tackling any hills you encounter on your daily commute. That's thanks to a powerful 750-watt rear-hub motor that offers 80 Newton meters (Nm) of torque, enabling you to climb most hills with a top speed of 20mph on throttle or pedal assist.
The RadCity 5 Plus is ideally suited for riding around town or the daily work commute. Its comfortable riding position, a rear rack for cargo, hydraulic brakes, and sturdy 27.5"x2" tires make it a real all-rounder of an e-bike.
Specialized Turbo Vado 5.0
• Longer Distance Utility Runs
• Exploring the Countryside
The Specialized Turbo Vado 5.0 packs all the power you need to fly up the most brutal hill climbs in record time. Despite lacking a throttle, this Class 3 e-bike offers high-quality acceleration for high-speed rides and expert hill climbing. It also weighs in at just 47 lbs and has hydraulic brakes that'll bring you to a quick stop even at high speed.
The Turbo Vado 5.0 is powered by a Turbo 1.3 mid-drive motor, which offers a peak torque of 90Nm and a top speed of 28mph, ideal for scaling challenging climbs without excessive pedaling and effort. Mid-drive motors enable you to utilize the entire gear range, which means you use a low gear with high torque to climb a tough hill.
• Riding with more energetic riders
The lightweight and sleek Trek Domane+ AL 5 has all the power you need to transform that previously insurmountable climb into a molehill.
Clocking in at just 31lbs, the Domane + AL 5 is less than half the weight of some of the bikes on this list. This makes it ideal for flying up the toughest of hills and gives you extra control on the way back down. While the upright riding position is designed for comfort on longer rides through multiple climbs.
Furthermore, mounting a spare battery on the bottle cage fitting allows you to hit 110 miles of riding in a single day — which promises a long, fun, yet comfortable day in the saddle!
Hit The Hills With Confidence On Your E-Bike
These four e-bikes are built to add a little extra power required to climb even the highest gradients of hills. But they're also equally suited for tootling around town or the daily commute to work.
Hills are a certainty for almost every rider, and e-bikes can help to reinforce 31 lbs and reinvigorate your love of cycling. However, not all e-bikes are well-suited to hill rides, and purchasing the wrong one could leave you struggling to make it up the most challenging of climbs. To select the right e-bike, you'll need to consider the type and quality of motor, the quality of components like the brakes, frame, and suspension, and the weight of both yourself and the bike.