Alright, bike enthusiasts, lean in! We went on a pedal-powered mission and handpicked the best e-bikes of 2023.
Our master list includes e-bikes that fit every budget and rider. Need something for your daily commute? Check. For your backwoods adventure? Check. For your adventurous kid? Check. For both mini adventures and city riding? Check.
And we've even included some runner-up options just in case you're not sold on our top picks. Ready to find your perfect ride?
Best E-Bikes You Can Buy Now
• Light gravel trail riding
• All-weather commuting around the city
• Short adventure biking on groomed trails
• Around-town grocery shopping
Pros
Affordable price
Cushy suspension and ride
Impressive 750W motor
Heavy duty sturdy cargo rack
Cons
Hefty weight (over 70 lbs)
Some diminished power due to weight
Average range — nothing extraordinary
Originally released in 2021 by Rad Power Bikes, the RadRover 6 Plus remains one of the best all-terrain electric bikes on the market today. But we think it's better called an adventure commuter bike since it performs well on gravel trails and bumpy city roads.
This American-made bike offers the perfect combination of sturdiness and comfort, thanks to its big frame, 4″ fat tires, suspension fork, and heavy-duty rack. Its 750W rear hub motor also packs a big punch when required, helping you tackle even the steepest of hills — even with a full load on throttle alone.
However, the powerful motor guzzles up some of the battery, limiting the range to about 45 miles. The weight of the bike also diminishes the power a bit, making the pedal assist unnoticeable on lower levels.
With its affordable price and great features, the RadRover 6 Plus is definitely one for you if you don't want to stick just to paved roads. It does have a few inefficiencies with the weight and range, but a realistic 40+-mile run on mixed terrain isn't a dealbreaker.
Signup for eBikes.org emails to be the first to see reviews, news, and exclusive deals and discounts from e-bike brands.
Rad Power Bikes' RadExpand 5 is a folding electric bike version of the RadRover. It, too, comes with 4" fat tires, a throttle, a comfortable saddle, and a powerful rear hub motor ideal for an all-terrain e-bike. Unlike the heavyweight beast above that might just fit in the back of a truck, the RadExpand can fold down and sit in the space of a large trunk.
Another aspect we like about the RadExpand is the low-step design, which is practical for seniors, individuals with mobility issues, or those who wear dresses/skirts while riding.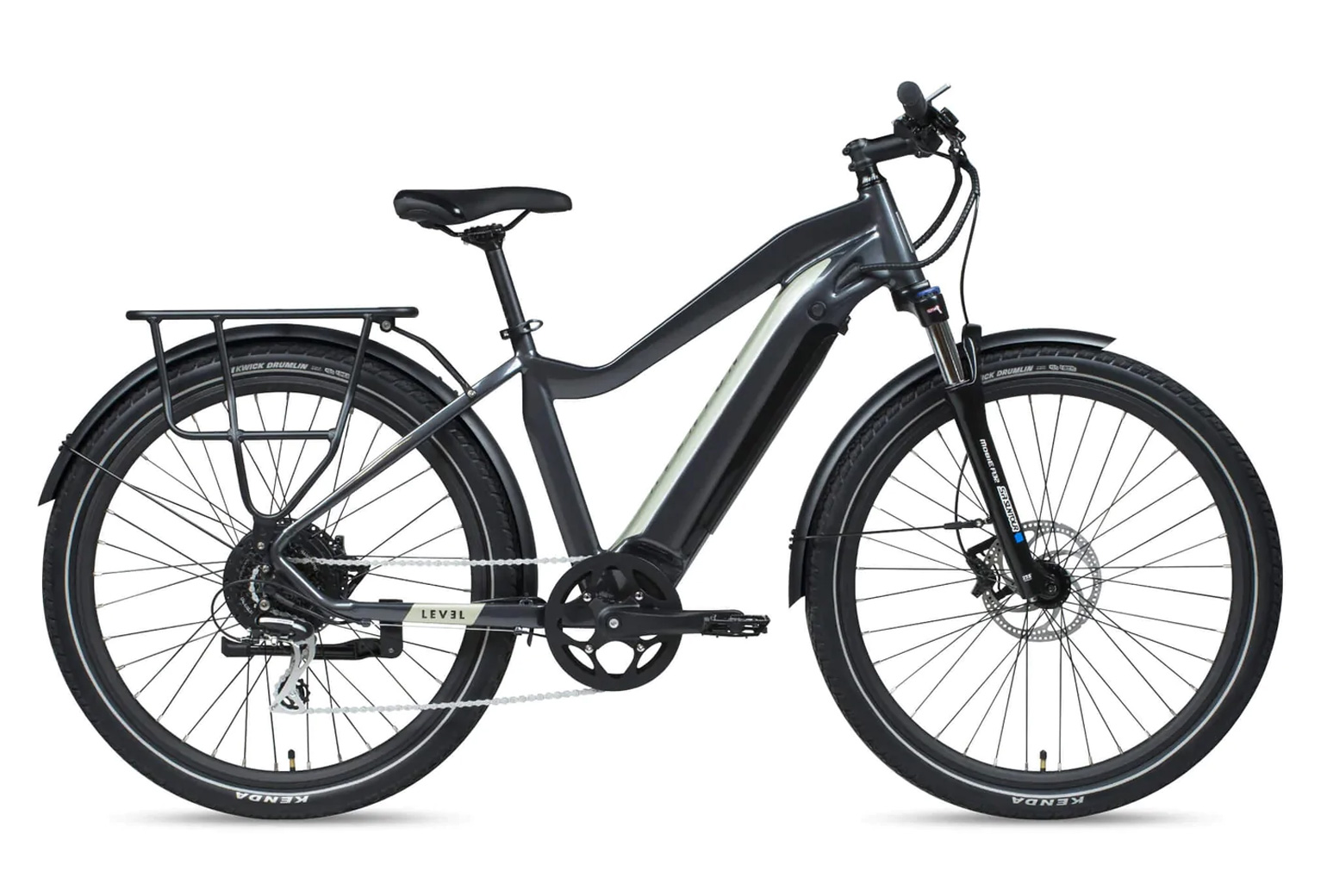 • Running errands or visiting friends
• Mid-distance rides in the countryside
• Use as a runabout when using your RV
Pros
Torque-sensing system
Frame-integrated brake lights
Customizable max assist options
Reasonable price
Cons
Weighs over 60 lbs
Mediocre range
The Aventon Level.2 is Aventon's second generation of top-end city/commuter e-bikes, and this most recent model really steps it up. It comes programmed as a Class 2 e-bike, but you can customize the maximum assist features to accommodate a Class 1 or 3 status — or make it an out-of-class e-bike with the throttle and maximum pedal assist.
The new torque-sensing system enhances the PAS, offering a more sophisticated and natural feeling than the original Level e-bike. On top of those features, the Aventon Level.2 includes accessories and an impressive suspension fork. 
That said, this e-bike is fairly heavy at  62 lbs. The range is also unimpressive, topping out at 42 miles — or less if you depend on the throttle. And while we give Aventon props for sleekly integrating the battery and lights, the wires could use some tidying up.
The Aventon Level.2 comes with a bunch of great features — like a torque-sensing system and thumb throttle — at a reasonable price. Even with the range topping out around 40 miles, that's typically more than enough for most commutes.
As commuter electric bikes go, the Trek Allant+ 8S Stagger has a lot to offer. The 625Wh battery offers a great range, and the powerful Bosch Performance Speed mid-drive motor kicks like a mule. Capable of 28 mph, this Class 3 e-bike offers high-speed, long-range commuting.
Another perk is the COBI.Bike app that turns your smartphone into a bike controller where you can view stats like speed and distance. Plus, the e-bike can even charge your phone while you ride.
• Taking the kiddo(s) to and from school
• Replacing the family car
Pros
Four cargo modes with Yuba's Dual-Rack System
Carries up to 440 lbs
Impressive range for the battery size
High-quality components for extended durability
Cons
High price tag
Handlebar and saddle could be more comfortable
The Yuba FastRack is our top choice for anyone looking for a highly utilitarian e-bike that can potentially replace the family car. Yuba's Dual-Rack System converts into four modes: flatbed, cargo, side-loader, and compact. This flexibility lets you carry passengers and cargo up to the 440-lb maximum gross vehicle weight limit.
The FastRack's drive system pairs the Shimano STEPS e7000 mid-drive motor with a 500Wh externally mounted battery for pedal assist speeds up to 20 mph. The 45-mile range can also handle most daily round trips, from errands and delivery jobs to kid drop-offs/pick-ups.
Yuba doesn't cut corners on durability, either. You get mountain bike-level components, muscular Magura brakes, and an SR Suntour suspension fork. That's why the $4,000 price tag seems more than fair — especially considering the savings you'll enjoy from ditching your car.
The Yuba FastRack is a terrifically thought-out cargo e-bike with a massive amount of utility in a deceptively compact package. It may come with a high price tag, but it's by no means an inflated cost, given the e-bike's performance.
Electric Cargo Bike Runner-Up
Lectric is a well-established brand known for its solid and reliable machines, and the Lectric Xpedition Cargo is no exception. It does what $5,000+ cargo e-bikes can do — but at a fraction of the cost.
For under $2,000, you get an e-bike capable of carrying up to 450 lbs of rider and cargo for over 100 miles. That's plenty of range to complete a full day of deliveries or errands, making this bike a game-changer in the cargo e-bike niche.
Best Folding Cargo E-Bike
Pros
Lightweight but sturdy frame
Compact size (35.5″ x 22″ x 31.5″)
Rear rack that holds up to 80 lbs
Accommodates varying rider height (4' 11"-6' 4")
Throttle for moderate hills
Cons
350W motor — could use a little more juice
Not ideal for riding steep hills or mountains
The Flyer™ Folding Cargo electric bike is a product of Radio Flyer, a company known for crafting classic wagons. Surprisingly, they have created an exceptional e-bike that lives up to the company's high standards.
The Flyer™ Folding Cargo is suitable for both city commuters and adventure enthusiasts. The compact size means it fits almost anywhere, from tiny apartments to your car's trunk. And the compactness doesn't affect durability. This e-bike has a sturdy yet lightweight aluminum frame and an integrated rear rack that can hold up to 80 lbs.
The one major drawback is that there are no gears to shift into on steep climbs, so this Folding Cargo e-bike isn't going to be that hill climber you'd expect from a geared electric bike. If you live in a city with steep hills or plan on riding in the mountains, this probably isn't for you.
The Flyer™ Folding Cargo is a versatile and practical bike that is perfect for both city and outdoor adventures — unless you live in an area with a lot of steep hills.
Folding Cargo E-Bike Runner-Up
The Lectric XP 3.0 has a lot of the same great features as the Flyer™ Folding Cargo: It's great for hauling heavy cargo on a durable, compact folding frame. The Lectric XP 3.0 loses points because of the extra weight but makes up for it with the gears. You be the judge, though!
Trek Fuel EXe 9.9 XX1 AXS
• All-mountain trail riding
• Highly invested riders or athletes who want the best of the best
Pros
Extremely lightweight
Ultimate comfort and maneuverability
High-quality components and impressive durability
Limitless ranging with motor off
Cons
Extremely high price – might put it out of reach for casual riders
The Fuel EXe rides so smoothly you might question whether it's actually an electric bike. And that's just the point. The e-mountain bike (eMTB) is both lightweight and durable but not meant to be super powerful. It has just enough power to give you some support on hard climbs while still performing like a normal MTB.
This 40-lb bike responds to your every movement and offers exceptional comfort. Thanks to the accompanying app, you can adjust your exact position and suspension. You also get complete control of the steering with a 64.8-degree head angle for direct cornering.
While marked at 40 miles, the range can be unlimited if you turn off the motor — which is quite impressive. The only downside is the price, which totals nearly $14,000.
The FuelEXe is a top-of-the-range e-mountain bike that comes with an equally high-range price tag. As a result, it's the ideal bike for dedicated professional athletes willing to invest in a high-performance electric mountain bike.
Lightweight E-MTB Runner-Up
While not a competition machine, the Trek Powerfly 4 has everything you need to tackle fun cross-country rides and explore state park footpaths and trails – all at a much more affordable price.
It's ideal as a first electric mountain bike, thanks to its tried and tested components. But it still offers plenty of torque, and the 10-speed transmission with an 11-46t cassette will help you ride economically.
• Ripping downhill and tackling jumps
• Achieving new KOHs on Strava
• Shredding tough hill climbs in the woods
Pros
Exceptional range for an eMTB
Hardly looks like an electric bike
85NM of torque for steep climbs
High-end suspension for ultimate comfort
Canyon has pulled out all the stops for its 2023 Spectral:ON model, which comes with a lightweight reserve carbon form and a 900wh battery (or 720wh, depending on the frame size). Add to that an X2 rear shock and a Factory Float 36 front fork, and you have a great combination of power and comfort.
One of the best features is the extended range, which tops off at about 40 miles. That's hard to beat when it comes to eMTBs! The style is also worth mentioning since Canyon was able to fit a large battery into a sleek frame so successfully that you can hardly tell this is an electric bike.
The Spectral:ON is a high-end bike, so it only makes sense that it comes with a high-end price tag. Just keep in mind that a bike of this caliber also requires regular maintenance to maintain its quality and performance.
The 2023 Canyon Spectral:ON is a new and improved model, and we're huge fans of the range, power, and comfort. The $9,000 price might seem like a lot, but it's worth it for the performance.
The Trek Rail 5 Gen 2 is a classic heavyweight trail shredding machine ideal for downhill or cross-country riding. It comes out slightly ahead of the Spectral:ON in terms of power, thanks to its Bosch Performance CX motor.
The range for this electric mountain bike is much lower at 29 miles, but you can push it to 40 or 50 if you only use it to climb back up those steep hills.
• Getting around to the local stores
• Evening use, such as getting back from the bar to the campsite
Pros
Costs about $1,000
Impressive range
Foldable frame with extra passenger seat
50 mm front suspension forks
3" tires for extra traction on various terrain
Cons
Not for intense off-road riding
Heavy for its size
When you think of fat-tire e-bikes, models with 4″ tires probably come to mind. But this year, our top pick is a model with 3″ tires, thanks to its top-notch power, range, and versatility. Enter the Lectric XP 3.0 Step Thru, a foldable e-bike that can traverse urban roads and light trails — all while carrying two passengers.
The bike comes with a standard 500Wh battery, but you can upgrade to a 672Wh long-range battery to get up to 65 miles of range. Thanks to its compact size when folded, you can throw it in the trunk and take it with you to a campsite or store it in a small city apartment. If that's not enough, the price is just under $1,000 — or $1,200 for the long-range battery.
The weight could be a drawback for some, but at 64 lbs, it's by no means the heaviest bike on the market. It's also important to know that this e-bike is for moderate off-roading — nothing intense.
The Lectric XP 3.0 Step Thru is a folding electric bike that stands out due to its impressive 65-mile range and competitive price of around $1,000. It's not for any intense backwoods riding, but it offers enough traction and power for long trail or urban rides.
The Aventon Aventure is a favorite thanks to its versatility and affordable price. Like the XP Step-Thru 3.0, the Aventon Aventure isn't ideal for intensive off-roading, but it works well for trail, beach, and urban riding.
It doesn't quite compare to the XP Step-Thru 3.0's affordable price and impressive range. Plus, the hefty 73-lb weight is a lot to manage and limits the efficiency.
Need More Fat-Tire E-Bike Options?
Best Electric Beach Cruiser
• Seeing friends for coffee
• Getting to work in summer months
• Visiting the farmer's market and local stores
• Having fun on a ride out of town!
Pros
Affordable price
Fun style and colors
Lightweight frame
Includes Shimano Tourney 7-speed system
Easy-to-mount frame
Cons
Doesn't come with accessories
Low-capacity battery
An electric beach cruiser should be the definition of fun, free, and stylish — and that's just what the Trek Townie Go! 7D is. This lightweight e-bike comes in at just 44 lbs and sports a casual style with the sweep-back handlebars, fun colors, and curved frame.
The performance is also impressive. This beach cruiser has just a 250W motor but can reach 20 mph and last up to 40 miles. That's admirable for a bike that costs less than $2,000 — and perfect for fun cruises around town.
One drawback is the low-capacity 250Wh battery, but it fits the bike's design and purpose, so we can't complain too much! You'll also have to purchase accessories like a rack and lights.
The Trek Townie Go! 7D is a fun and practical cruiser that offers an impressive performance, especially considering the low price. It has a low-capacity battery, but it's more than enough to get you around town.
Electric Beach Cruiser Runner-Up