E-Bike Overview
The Spectral:ON by Canyon has been completely revamped for 2023. We tested the CFR version with a reserve carbon frame, which is slightly lighter than the CF carbon frame. It boasts a 900wh battery or 720wh (s-size). The motor has been rotated and shifted up, and the battery is located low beneath it in the downtube.
Inserting the battery from the bottom, it is secured by two screws and has a cover for easy access. The power connector has been moved to the left side for easy charging and is beneath a protective cover. The frame is well-finished and cables are routed through the stem for complete integration. The bike also features a knock block for fork/frame protection and a full carbon rear triangle with a robust four-bar linkage design. The Fox shock with piggyback mounts under the down-tube for easy access and the seat tube angle is optimized for efficiency while trail riding.
The bike is based on the Shimano EP8 motor system, which we will examine in more detail later.
Best For
The Canyon Spectral:ON CFR is a fairly generic All Mountain bike. It's going to appeal to a lot of riders, but we would say the purest Enduro rider will find it too tame and will want more travel and a longer reach. The greatest pleasure will be reserved for the explorers. If riding this e-bike and exploring an extensive trail network is your thing then you are going to discover many more trails than you anticipated.
Reasons to Buy
If you want absolute range, look no further.
You need XTR and don't want to pay 30 percent more for it.
Like everything carbon? This bike has lots of it.
The suspension is easy to tune and then just leave it alone.
Range, did we say that twice?
Things to Consider
Canyon is an online brand so if you want to test ride, you will have to find one of their test days. Their customer service is top notch and despite the fact they have no shops, the e-bike system is Shimano and thus can be serviced by any Shimano dealer. Canyon in some parts of the world is rolling out a mechanical dealer program as well, at a bike shop near you.
Components
The suspension on our test model was from Fox, front and rear factory units with a 150mm Factory Float 36 up front and an X2 on the rear. These units all have multiple adjustments that will enable all riders to find their ideal settings. Including low speed and high-speed compression, rebound, and sag. Setting up the suspension sag in our experience with the X2 shock takes a few goes to have the correct setup without bottom out. Once dialed in, it's actually very controlled and responsive across a wide range of trail conditions and riding styles, typical of a top-of-the-range shock.
The Component package on our test bike was a top-of-the-range full Shimano XTR package. XTR four-piston brakes, 12 Speed XTR derailleur with an XTR cassette, XTR shifters zero low-end parts. XTR's performance is some of the best out there. Shifting is precise and responsive with very smooth operation, a step above the XT range.
The wheels are Reynolds Carbon e-bike-ready rims and hubs which have the Shimano center locking disc setup, with XTR Shimano brake rotors mounted. The bike came with Maxxis Assegai tires 29" x 2.4" front 27.5" x 2.4" rear, and a mullet setup.
The seat post is from Fox and is combined with a Fizik saddle, which we found to be extremely comfortable, even over longer rides. The cockpit is Canyon's own brand-wide 800mm aluminum bar and stem which allows cables to pass through into the frame through the headset keeping the lines of the bike clean, we like the look but not as easy to maintain as external cable routing however we have had no need to change the cables during our 6 months of testing.
Shimano EP8 Motor
The Shimano EP8 is now a well-established motor with 250w of power and 85Nm of torque. We have used a lot of motors and this mid-drive motor has a natural feeling. We have covered more than 2,500 miles in the last year using this motor.
The motor uses Shimano's very nicely executed control system and display which can also be connected via Bluetooth to a smartphone app, where the user can modify and personalize the motor's performance settings in each mode, creating a personal riding experience. You can set up each power mode to have a choice of torque and motor response settings. We tend to tune the trail mode to be a little softer reflecting our physical state. The other power modes we tend to leave as they are.
Canyon Battery
The battery is a Canyon 900wh or 720wh, depending on frame size. The unit has been certified by Shimano and carries the STEPS logo. The battery comes under Shimano's global service network and provides full warranty and service support to Shimano customers. Canyon made an intelligent move by doing this.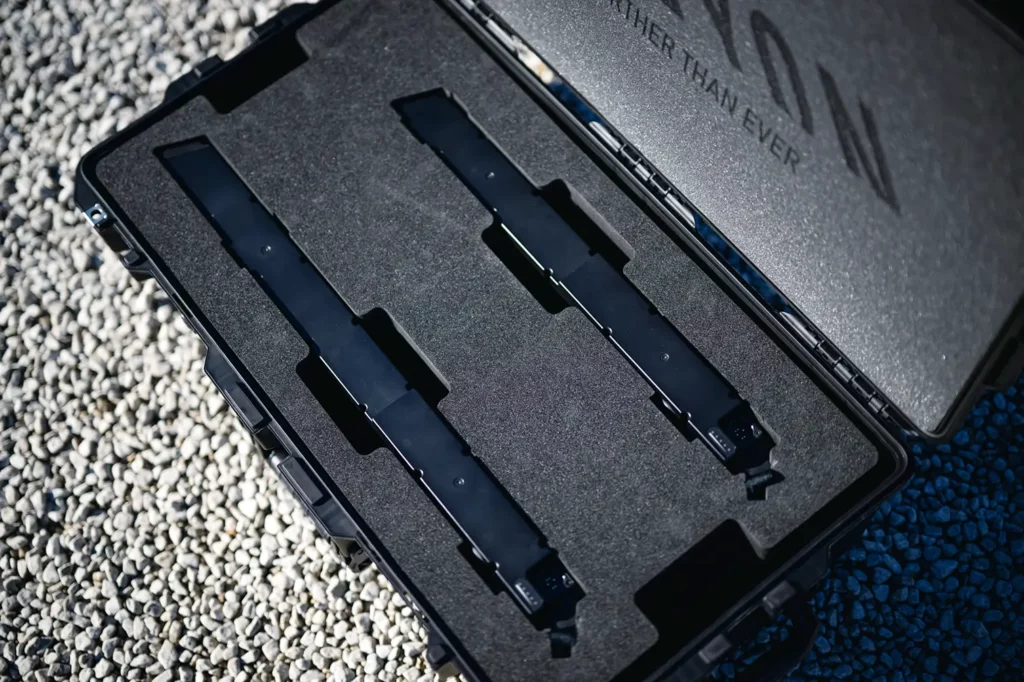 The battery is actually quite slim in design and weighs just under 10 lbs, this is lightweight for a huge battery mainly because of the lightweight slim casing. It is charged by a Rosenberger connector, which is one of the easiest to use and takes around 4 hours from completely discharged to be charged via the custom 4amp charger. The battery can be charged on the bike or removed (with the bike in a stand) and charged in a different location.  
Range is always a thorny issue on EMTB bikes and depends on many more factors compared to a road e-bike. Depending on your usage type we estimate that very few users will be worried about running out of charge. We have charged the bike every two rides if doing a short loop near our home. We weigh about 200 lbs and at the end of a ride off-road, we had forty percent of the charge remaining after 3000 feet of climbing. On a more extreme test near Lake Garda in northern Italy, we managed about 6500 feet in trail mode with some use of Boost. 
Canyon quoted in their tests that a 150lb rider can do about 6000 feet in eco mode. We would suggest that this is probably an accurate description of an unfit rider. In reality, the range can be a lot more and is untouchable when it comes to any competition out there.
The display is Shimano's top-of-the-range color display that is slim line and positioned behind the handlebar next to the stem in a protected position. This interfaces with our favorite e-bike remote on the left of the bar. The remote has solid plastic, it's very robust and connects to the display with one short wire, (no long wiring back to the motor). The display then completes the circuit back to the motor. This bike has no throttle and is a Class 1 system, using pedal assist only. 
If you download Shimano's E-tube app you can connect via the display, make your tuning modifications, and also update the e-bike software. It is also possible to save two profiles into the bike so that while out on the trail, you can select the power profile without using the app. We have one "lazy" mode stored and one "fitness" mode stored. 
Geometry
We like to look at the angles and numbers, but what is more important is how these feel when riding. Sitting down and tuning our setup position we found a very modern geometry setup, meaning plenty of stack in the head angle and enough length in the top tube, out of the box. The bar feels quite high and this gives a feeling of security from any action that may be happening up front when the trail gets steeper. We were able to drop the bar a few mm and found our more aggressive setup after a few rides, which we feel is better for experienced riders. This though is the point, you can make changes if you need to, and plenty of settings are available.
Next, we move onto the cockpit length, it feels actually surprisingly similar to other top brands, not too aggressive, not too upright. It's an all-mountain trail bike, meaning long days in the saddle and flowing trails. We like aggressiveness, it's our preference, but here Canyon has found a more neutral ride feel. The 27.5" rear wheel gives the bike an exceptionally stable and easy-to-ride sensation uphill and downhill.
To fit a monster battery like the 900Wh, the motor has been moved up slightly and the battery runs the full length of the downtube, inserted from beneath if you remove the motor cover, which folds back on a special strap. This keeps the weight low down and we felt handling was not negatively impacted by a larger battery which actually weighs the same as a Bosch 750wh. Intelligent integration and design has kept the battery casing minimal and the geometry subtle. The bike feels normal despite this huge power supply.
Takeaways
Riding This Bike Is Easy
Downhill – The Spectral CFR:ON is a capable All Mountain e-bike, but its limits were primarily determined by the rider's skills. On rocky enduro descents, some caution was required, but it's150mm of travel performed well despite being shorter than we prefer.
Despite the weight of the battery, weight distribution was balanced and cornering was normal and stable. The Spectral was agile in corners, with a wide appeal for different riding styles and body positions in various conditions.
The Spectral likes loamy trails with lots of quick corners and fun rolling jumps, it's very fast to respond and makes good use of the mullet setup to balance high-speed stability with quicker cornering.
After a long time riding this bike, I have to say we like the mullet setup. However, unless you have some serious bike skills most people won't appreciate or be able to tell the difference, so for those who might buy this bike, it is possibly more a trend than a necessity.
The Carbon wheelset gives improved handling on tight twisty trails. They have performed well and have not been fragile in any way. The lighter weight helps offset the extra weight of the battery. We can't fault this specification choice.
The only weakness I could find regarding the ride feel was actually a consequence of one of the bike's strengths. It's a very stable bike, this is due to a low bottom bracket. This low bottom bracket does give a risk of pedal strikes, the main thing to do is watch your timing on rough rocky uphill sections and this can be mitigated.
Components have performed flawlessly as long as regular maintenance is carried out, especially regular Shimano brake bleeding.
Extended range
The bike has a ridiculous range. We generally found ourselves being tired before the bike was flat. We measure range in altitude gain or hours rather than miles. Despite taking ourselves to the limit, we still haven't arrived home with an empty battery. Empty legs yes, but not a battery. A fitter rider could probably go further as could a lighter rider, but this is the machine for absolute performance and range.
Price
This is a high-end bike, it costs $9,000 and up, depending on the build, which is very pricey. You get a lot though, and the competition from non-direct-to-consumer brands has a lower spec for this price. Performance for a price, therefore, is top.
Other E-Bikes In The Range
When we compare the range of the Spectral:ON a few details become apparent. Geometry and handling in general shouldn't change much as you drop down the range, battery capacity does a bit as the frames change to alloy on the lower-end models and the component choices become entry-level. What does this mean? Well in our experience it means durability and will reduce a little adjustability, particularly in the suspension department. The performance will also drop off a little, however, if you are an entry-level rider with less the lower-end models will serve your needs well.
Our test bike the CFR is not top of the range, there is one model above the LTD, the main difference being it's a SRAM-based bike-build with tunable flight attendant suspension and a carbon bar, and wireless shifting. These extra components are worth the extra few hundred dollars, but availability is limited according to geographic location.