Specialized Turbo Levo SL Carbon Comp Overview
One could argue that Specialized created the modern e-bike market and expectations amongst consumers. They created the first integrated modern eMTB back in 2015 with the Turbo Levo. That bike has evolved over the years into various sub-models, with the lightweight e-bike category being the latest.
Lightweight eMTBs merge the feeling of a non-electric bike with that of electric assist. Obviously, compromises have to be made as batteries and motors add weight and performance differences to an e-bike. Specialized do though innovate the most, at the crest of the lightweight design wave in this space.
The Turbo Levo SL Carbon Comp sits as an entry-level carbon lightweight e-bike. Remember though, it's a Specialized, so entry-level is by their standards, not by the standards of the whole market, making this bike very interesting.
The bike is in its second generation, with improved systems and design. It has 160mm of travel up front and 150mm in the back. It is a highly adjustable design with an adjustable headset and frame geometry plus a tuneable motor.
Specialized has created a new lightweight motor and it also has a 320 Wh battery contained in the downtube of the carbon frame. You can also add additional extender batteries via the bottle cage that are 160 Wh each, giving you a total of 480 Wh of energy.
The wheel size format is adjustable but our version came with a 29" front and 27.5" rear—referred to as a "mullet". It can be ordered in a 29" front and rear as well, or you can add a 29" wheel at a later date as the frame can be adjusted via flip chips for the different wheel sizes.
This bike is designed to be ridden by riders who like to be active and are not expecting the motor to do everything for them.
Components
Frame
Out of the box, the frame on this bike is stunning. The attention to design detail is exceptional, with seemingly every surface, curve, and interface being curated to a very high level. This is one of our favorite e-bikes when it comes to finish and a tactile product experience. The frame is carbon front and rear and looks like a normal bike, save for the very discrete motor and integrated display.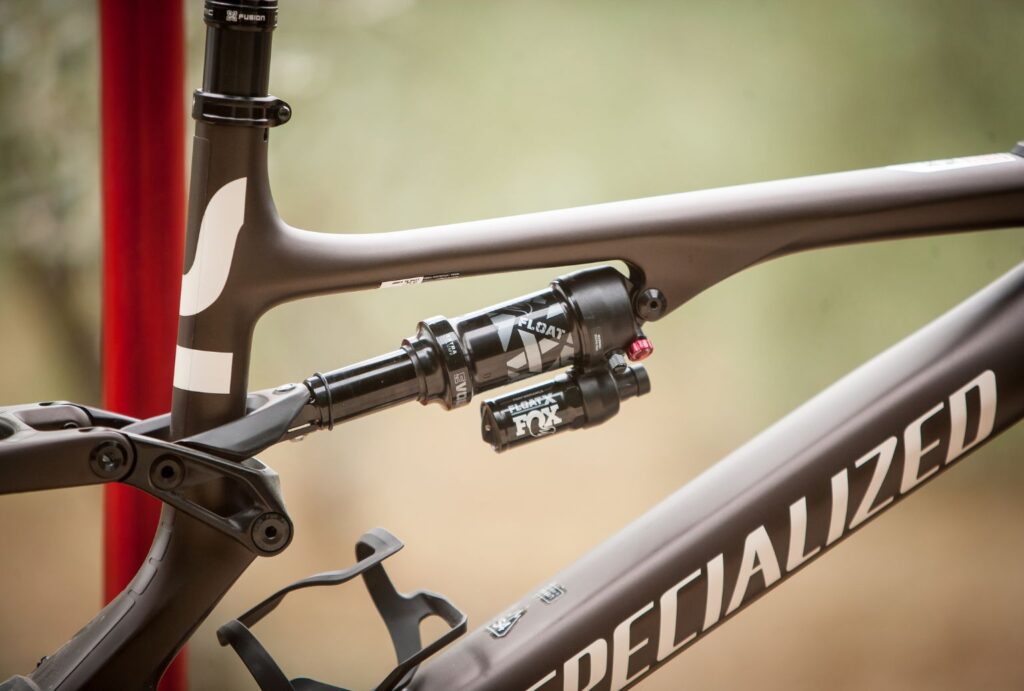 Controller and Cockpit
Specialized opted for a clean look on the bar with no bar-mounted display and a subtle remote that is slim line and functional.
The electronics are integrated with a top tube display that on this version now has an LCD color screen with a power button. The screen is incredibly clear and bright in all the conditions we experienced.
Drivetrain
The motor is Specialized's custom 1.2 lightweight version which sits at the bottom bracket and at first glance seems marginally narrower than the previous version. The battery is placed in the down tube and is small in size meaning that there is a low down weight distribution. The battery can be removed without removing the motor.
The seat tube uses a hydraulic seat post activated by a bar-mounted lever. Gears are provided by SRAM with a 12-speed GX system which is reliable and shifts effortlessly. It uses the UDH standard which means you can also fit the new wireless system if you want.
Suspension, Wheels, and Brakes
Suspension travel is 160 mm front and 150mm rear provided by FOX, with a Rhythm 36 fork up front and a Performance float shock with piggyback behind. The suspension hints at all mountain use, not enduro.
Braking is provided by SRAM with their well-functioning CODE RS brakes. These have 200 mm rotors up front and are solid and reliable in most conditions. Braking was a stand-out point with the light weight giving more precise reactive braking and less weight being thrown forward on steep trails.
The wheels are Specialized branded 29" aluminum up front with a 27.5" in the back. The tires on our model are the Butcher and Eliminator from Specialized. These tires are excellent and are also popular as aftermarket tires for many non-Specialized riders as they offer exceptional value and performance characteristics.
Specialized Motor and Battery
Full disclosure, we know the chief Specialized engineer personally and have spent time with his team over the years riding lots of electric bikes including a few pre-lease models. The one thing that is clear when in his office on his desk, is the data logging software that is often open on his screen. If you follow our podcast episode and interview with him from late last year you will know that they absolutely believe in making the components they want for an e-bike. Off the shelf is simply not good enough. Saying this, we know that Specialized has invested millions in research, development, and production giving them a unique motor and battery system.
In reality, this gives the user a highly tunable exclusive system that works very well. This year the new motor has been completely reworked to be capable of outputting 50 nM of torque and 250 watts of power using the same 320 Wh power pack. The motor is also quieter and more enjoyable to use compared to the previous version.
The key to their system is the app, which allows the user to navigate, tune the motor, change the display layout, and share rides over digital services. Also, the user can check service logs and other system parameters. You can manage multiple e-bikes from the app and also plan routes where the motor system will set power levels so you don't run out of battery.
The range of the system is similar to the previous version. We would say it uses more battery in turbo mode but gets you up the hill more quickly. However, you arrive at the same destination. The ability to be able to use the bottle-mounted extender batteries though means you have essentially unlimited range. With one extender you have about the same range as a normal 720 Wh e-bike, with two you can go further than any other bike we have used. The bike is lighter, so comparably, the rider also pedals more or travels slower. The batteries can be tuned to drain in unison or individually.
Specialized Turbo Levo SL Geometry
We changed the geometry of the headset setting to 63 degrees, (the standard is 64.9) as we know that we like an open-feeling front end. We noticed that it was easier to tune the suspension with this version than the previous generation to have a better sag feel and bike response.
On board, the rider doesn't feel like they are riding an e-bike. The geometry is all about riding in varied conditions, not just descents. It's comfortable with a spacious reach on our S4 test size for our 6ft height. We felt we commanded the bike and sat on it rather than in it. This makes the e-bike more responsive for trail riding pedaling up hills and tight twisty mountain or woodland trails. It sits absolutely in the middle of the mountain bike riding experience. It does everything well. Extreme aggressive trails are not the place to take it unless you have exceptional skills. The Turbo Kenevo SL is the bike for that.
On The Trail
As an allrounder the Turbo Levo SL is fun but you need to put effort in. Uphill, the motor has a dull whine and is supportive to the rider rather than commanding. The initial feel of the motor is about the rider first with the power then ramping up gently once the first part of the pedal stroke has started. This is different compared to a full-power e-bike. We found climbing to be easy and we used either the trail or turbo mode most of the time. Eco mode for us, was not used, but would appeal to a very fit rider.
On flowy trails, this bike flies, it's so precise and does not feel like an entry-level carbon e-bike. This surprised us as the components are not top-tier, however, they worked well together and the bike felt like a complete unit. Obviously, the product manager has spent a lot of time making sure that this was achieved.
Downhill, we found ourselves in command of the bike with it snapping into corners much later than is possible with a heavyweight e-bike. On small jumps, drops, and roots this eMTB followed the rider, which is a common difference with lightweight e-bikes. All the sensations of an analog bike. When the trails were rowdy we would say the limits of the rear suspension feel were reached, although the 36" Fox fork is very capable and gives excellent tracking.
The Turbo Levo SL shines on twisty trails with lots of exciting features, but nothing extreme. We did take it down a downhill track and were completely under-biked.
The mullet wheel setup (29"+27.5") is our preferred setup on this electric mountain bike and we felt that it gave a stable and responsive ride, and is better than the 29" + 29" configuration, which was the standard of the previous version.
Things to Consider
You can travel on airplanes with this e-bike. With the main battery removed and two bottle batteries in your carry-on, this is one of the only e-bikes accepted by airlines as the batteries meet the regulation maximum you can fly with! If you want a full-power e-bike, then obviously take a look at the full-power Turbo Levo. Specialized make good bikes – as if you didn't know. This is a good bike, its motor is much improved, but without comparing it directly to other lightweight e-bikes we can't say if it's better or worse than the competitors. Its interface though is better.
Reasons to Buy the Specialized S-Works Turbo Levo SL 2
Looking at the Turbo Levo SL's components compared to the competition, the Specialized wins on electric tech, but loses slightly on wheel quality level and front suspension as it's an entry-level Fox 36 for the price. However, that does not seem to dampen performance as the bike feels like a higher-end e-bike than it is. We would almost say that we can't see the point of going to higher-range versions unless overall bike weight is your concern. This electric MTB is aimed at the serious rider who wants a quality lightweight electric experience without spending $10K.
Takeaway
We really liked the Turbo Levo SL. It performs as you would expect any product from Specialized to perform—a top-quality e-bike. We always enjoy Specialized bikes and recommend the Turbo Levo SL as an approachable way to rock the Specialized style and presence on the trail.